Face Masks in Malta
With the number of Coronavirus cases in Malta increasing as of late July and early August, many people are once again looking to purchase face masks in Malta to protect themselves. At PPE Malta we supply a number of different masks all available and in stock for customers right away. Order all types of Cheap Face Masks in Malta via the website or contact us via the phone or email to place an order. Our most popular items include disposable masks, washable masks and N95 respirators – all of which can be delivered to your home or business address as soon as an order is placed. We also supply the very popular Visors and face shields with anti fog and foam covering which are very comfortable to wear in the summer heat. Get Masks at the best prices and with free delivery available from PPE Malta. Below find a brief summary of each of our main product. For any further information on how masks and visors can work for you please feel free to contact us.
Disposable Masks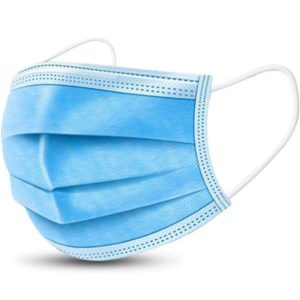 These types of masks are also known as surgical masks as they are the type that dentists and doctors wear when performing routine procedures. Our one time use masks are available in boxes of 50 and that is the minimum order for this product. Disposable masks in Malta should be worn only once and then discarded. They are the cheapest product available with prices starting at 95c for boxes of 50, with the price reducing down to 75c for orders order 300 units. Available in stock. To order disposable masks click here.
Reusable Cloth Masks
As the name suggests these type of masks can be reused multiple times and are infact machine washable – so they can be cleaned in a washing machine. The black cotton masks in Malta are very comfortable to wear and can be easily carried in a bag or pocket. These 3 ply masks can be purchased in quantities of 1 unit and are individually wrapped for hygiene purposes. With prices starting from €3 and reducing to just €2.20 for larger orders these masks are a great product that can be used again and again. Available in stock. To order cotton masks click here.
Face Shields
Also referred to as Visors, this type of product is very popular for staff working in the retail and entertainment industry. The plastic covering makes it easy to communicate with customers including speaking and also facial expression. With added foam protection the face shields in Malta are extremely comfortable to wear for long periods of time. With an adjustable strap the product can fit both adults and children over the age of about 8 years old. Face shields are ideal for companies looking to protect their staff whilst at the same time allowing them to breath easily and have some freedom. Prices for visors start at €4 and reduce down to €3 for large orders. Available in stock. To order face shields click here.
N95 Respirator
The N95 masks are one of the highest standard products available on the market and are mostly used by health professionals who are likely to come into contact with the virus at their place of work. Also known as a KN95 mask, it creates a very tight seal around the nose and mouth and this protects the wearer from up to 95% of airborne particles. This product offers a fantastic solution for long term use and can be reused a number of times. N95 Respirators are supplied in packets of 5 units and this is the minimum order. Prices start at €5 per unit and reduce down to €3.20 for larger orders. Available in stock. To order N95 masks click here.
Face Masks in Malta
To order any of the products mentioned above simply click this link and complete the online form. One of our sales team will get back to you straight away. For urgent orders please call 99990566 and we will be able to assist you straight away. Alternatively you can email your requests to info@ppemalta.com and we will reply accordingly.