Disposable Masks in Malta
Order a our most popular product the 3 ply face mask which is lightweight and easy fitting. Available in stock and ready for delivery or collection today!
Disposable Face Masks in Malta
The Government of Malta are constantly monitoring and updating their advice regarding masks as and when new research comes to light. Disposable Face Masks are required to be worn in all indoor settings and public places. As lockdown restrictions begin to be lifted, some non-essential retail outlets have been allowed to re-open on the basis that staff and members of the public wear face masks. The World Health Organisation (WHO) has given guidance that the wearing of a face mask can help to prevent the spread of Covid 19. Disposable face masks in Malta are the cheapest type of mask available and ideal for one time use such as heading out to the shops. The 3 ply material that make up the mask protect the wearer from airborne particles and also ensure that any droplets cannot be ejected from the nose or mouth.
At PPE Malta we can offer many different face masks to suit your needs. These fabric face masks are not as robust as the N95 respirator as the fitting is less tight around the nose and face. This makes them more comfortable if you need to wear a mask for a longer duration. It should be noted that the basic function of this mask is to stop the wearer of the mask spreading droplets onto others. Therefore, the Maltese authorities have made it a requirement for people to wear masks when in shops or using public transport. If everyone wears a mask it should be very difficult for the Covid 19 virus to spread in Malta.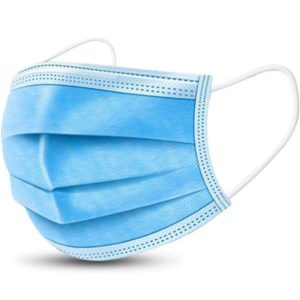 What is a disposable mask?
The much respected site Wikipedia has the following information in regards to surgical face masks in Malta and how best to describe its function and level of protection;
"A medical facemask is intended to be worn by health professionals during surgery to catch any droplets from the wearer's mouth and nose. They are not designed to protect the wearer from inhaling airborne viruses and are less effective than respirators such as N95." Wikipedia
How much are 3 ply masks?
Our disposable face masks in Malta are available in stock and can be ordered today by sending an email with the required quantity at info@ppemalta.com. Our paper masks are supplied individually wrapped for the utmost hygiene standards. Minimum order for this type of facemask is 10 units. Refer to the sample image showing the product when in the package and when removed to be worn. Below please find a price list for surgical masks in Malta which are available for purchase. Prices do not include VAT or delivery which will incur additional charges. With a limited amount of stock available we recommend placing your order as soon as possible which will be confirmed via email. Disposable Fabric masks are available in Malta and are in stock today. This is an ideal product if you do not plan to use a face mask extensively but need to comply with the new Government regulations. Please email us on info@ppemalta.com to place your order for 3 ply face masks. Each mask is individually wrapped allowing them to be kept in a car, bag or purse before being opened for use. We are seeing unprecedented demand for these products so please confirm your order ASAP to avoid disappointment. Minimum Order for this type of face mask is 50 units which cost €0.50 per unit Excluding VAT. Kindly refer to the image below to see samples of the disposable face masks that this article refers to.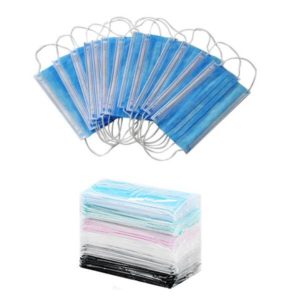 Where can I buy Disposable masks?
The price for Fabric Face Masks in Malta can be calculated using the table below. For customers requiring more than 300 units please email us for a specialised quote that will include delivery. Stock is limited and expected to sell out in the coming weeks.
| | | |
| --- | --- | --- |
| Qty | Price | Per unit |
| 50 units | € 25 | € 0.50 |
| 100 units | € 45 | € 0.45 |
| 150 units | € 60 | € 0.40 |
| 200 units | € 70 | € 0.35 |
| 250 units | € 85 | € 0.34 |
| 300 units | € 90 | € 0.30 |