Personalised Face Masks in Malta
Get custom printed face masks with your logo and text in colour. Best prices on printed masks with fast delivery and items in stock.
Personalised Face Masks in Malta
With masks being mandatory in all public spaces to combat the spread of COVID-19, the ideal way to stand out with your own style is by wearing Personalised Face Masks in Malta. These type of coverings are available for those looking to add a customized touch by including a logo or text. We are able to print in one colour and for best results we suggest using either text or a simple logo. The normal print area is approximately 25mm x 25mm to fit comfortably onto the surface of the material. We have supplied many businesses with Personalised Face Masks in Malta and most opt to print their company logo in either the bottom left or right hand side which is visible when worn. Due to high setup costs the minimum order for custom printed masks is 20 units.
How much are customised face masks?
To order Personalised Face Masks in Malta please send an email to info@ppemalta.com. Please kindly include details such as the quantity required and the logo you require to be printed. Our artwork team will work on a digital proof to send back to you for confirmation before proceeding with the order. Production time for printed masks is approximately 5 working days from confirmation of the order. At this time we only supply masks in black colour and in an adults and teenagers size. Unfortunately we do not offer children's sizes for those below the age of 12. We look forward to assist you with your order for Personalised Face Masks in Malta.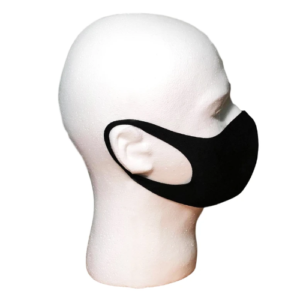 Price list for Custom Printed masks
The price for Custom Printed Face Masks in Malta can be seen in the table opposite. This is the price for print in ONE COLOUR. If you require more than 100 masks please send us an email for a specialised quote that benefits from free delivery. With stock levels limited we encourage you to place your order as soon as possible. Please note that the minimum order for printed face masks is 20 units due to the setup costs.
Find out some more information about the use of masks from the World Health Organisation here.
| | | |
| --- | --- | --- |
| Qty | Price | Per unit |
| 20 units | € 67 | € 3.35 |
| 30 units | € 97.50 | € 3.25 |
| 40 units | € 124 | € 3.10 |
| 50 units | € 150 | € 3.00 |
| 60 units | € 171 | € 2.85 |
| 80 units | € 208 | € 2.60 |
| 100 units | € 240 | € 2.40 |